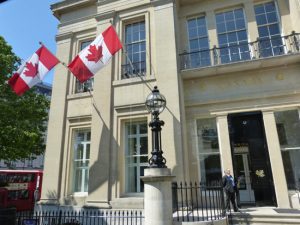 It was one of the quickest checkpoint passages I think I've ever experienced. Not that the security officer wasn't thorough. Not at all. First he asked us about the nature of our visit. We said we wanted to visit the Canada Gallery just beyond the checkpoint. Next, he asked to scan my backpack. No problem there. Then, I offered my passport.
"Canadians?" the security guard said.
I nodded and in we went. My wife and I had just gone through the security check at Canada House, in London, England.