None of my family members – as much as they love me – wanted to consider what I was saying this week was possible. Certainly, my friends won't believe me either. But I was up in a part of Ontario the weather forecasters call Huronia. It's that stretch of the Georgian Bay shoreline that runs from about Victoria Harbour to Penetanguishene. Actually, it was along the Midland, Ont., waterfront. And when I got there to visit a friend, last Saturday, I looked at the bay in front of his home and said we had to walk.
"It's my chance to walk on water," I told him in fun.
But as we came down to the ice on the bay, I realized I wasn't far from the truth. As was the case across most of Ontario, last weekend, it was a gorgeous late February day in Midland. Plenty of clear blue sky and bright sunshine. And the combination made the glare off the ice intoxicating. It also played tricks on our eyes. The translucence of the ice made it seem as if we really were walking on the water. We were actually walking with his two good-sized dogs and as they dug their claws into the ice and pulled, and we followed in tow, we went skidding across the ice past dozens of other strollers, not to mention the army of people ice-fishing. I was a bit concerned.
"Not to worry," one fisherman told us. "Ice is a foot and a half thick here." And he was drilling with an auger to prove it.
That was sort of reassuring. But as the dogs pulled us farther and farther out on the ice of the bay, I thought, "What if he's wrong? What if we find a spot that's not only clear but thin?"
Anyway, such is the atmosphere of this crazy thaw we've experienced lately, not to mention the mind-set that it also creates. In the past few days since my walk on the water, I've seen people lobbing baseballs, poking through their garden sheds, eating ice cream, and, yes, the really silly dreamers in the crowd strolling around in T-shirts and shorts. Then, there were the wackos out there, the ones who really decided to tempt the weather gods … and washed their cars. I'm waiting for the other shoe to drop – a late winter blizzard. We all know it'll happen. We just won't admit it.
So, we've been going along blithely all this week, enjoying a phoney spring. I mean, I even went to the camping section of the hardware store and bought a new air mattress, even though my first canoe trip this season is exactly eight weeks, six hours and 15 minutes from now. Who's anxious for spring?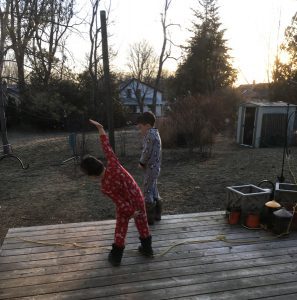 Well, a couple of my grandkids certainly are. They're visiting from the city. And one morning this week, the boys donned their Wellies and – still in their pyjamas – dashed out into the snowless backyard, set up their soccer nets and began imagining a Premier League football match at between Man United and Liverpool. I can still hear their laughter as they booted their soccer ball through the mud, yes, in their boots and jammies. Hope springs eternal when you're a kid, the morning sun is warming the air out of season, and last fall's tired old soccer gear is beckoning.
I know it's a horrible analogy, but it's the historian in me. There was a period in 1940 – about eight months in the Second World War – when both sides were waiting for the other to break from a jog into a full dash toward the other. The Germans had invaded Poland. The British Royal Air Force had engaged in dogfights over France. The Soviets had attacked Finland. But there were no major artillery and infantry engagements along the traditional Western Front. Churchill called it the "Twilight War." And a U.S. Senator apparently coined the phrase, "Phoney War."
That's the way I've been feeling all week. I've been tempting fate with my walks on Georgian Bay ice, watching my grandkids play soccer in their pyjamas, and even driving around in shirt sleeves. On Tuesday, while all this spring mania was making us crazy in the streets, my wife asked me to stop by the grocery store.
And I – like the fate-tempting car washers out there – decided not to wear a jacket, nor roll up my car window for the drive. (You know what's going to happen, don't you.) I passed another car with a driver who was equally exuberant, and I got the worst of a puddle we both drove through straight in my window.
It was almost worth it, though, just for the chance to feel that phoney spring air on my face. Then, I ran into a friend at the store. We both looked skyward, smiled and shrugged.
"It's Canada, eh!" she said. "In February!"